Ya se que mayo y junio son tough months (meses duro) entre trabajo, exámenes, el calorro (al menos en Zaragoza?) y que ya estamos con ganas de holidays, así que ¡muchos ánimos darlings!…¡es el sprint final!??

Yo también estoy en modo busy bee con nuevos proyectos que espero poder contaros muyyyy pronto?… y para ir calentando motores, este mes vamos a practicar un poco de oratoria, y pronunciación con BENEDICT CUMBERBATCH! (se pronuncia béh·neh·dihkt káhm·beeeh·bach ? aunque como podéis ver aquí hay mas posibilidades de pronunciarlo mal que correctamente?)
Vamos a trabajar con un motivational speech ?‍♀️en el que Benedict Cumberbatch rinde homenaje y elogia (praises) el hecho de desconectarse del mundo de vez en cuando y alejarse de nuestra obsesión por pensar demasiado (overthinking)?, para simplemente pasar a la acción (just do)?.

Os dejo también un glosario con vocabulario útil ? y la gran performance de Benedict? , para que puedas verla, trabajarla, imitarla, interpretarla y ¡disfrutarla!

Presta mucha atención a la entonación, el énfasis en determinadas palabras, las pausas, etc…y aprende de un gran British teacher ?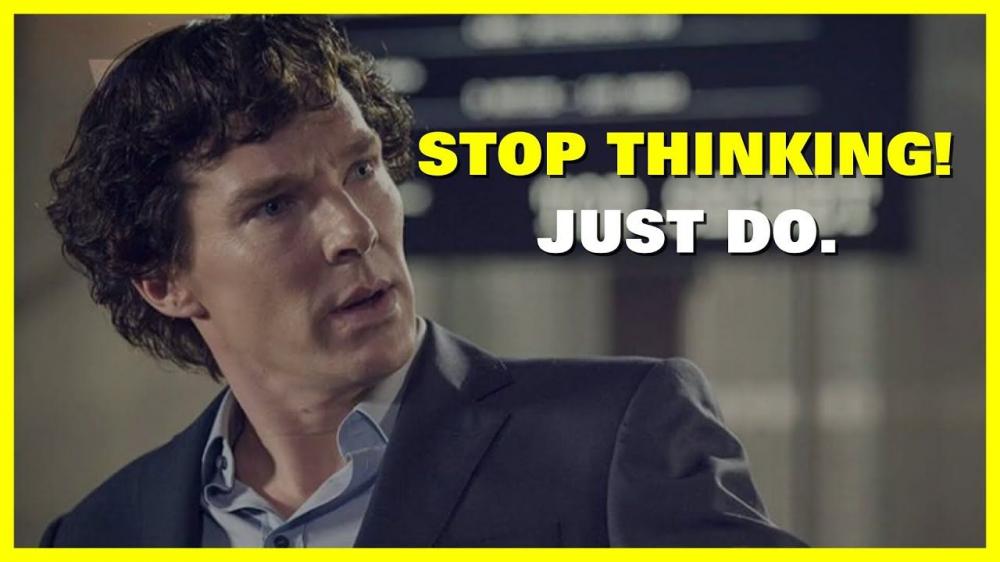 '
Learn to say 'Fuck you' to the world every once in a while. You have every right to. You must practice being stupid, dumb, unthinking, empty. Then you will be able to do.
Don't worry about cool. Make your own un-cool. Make your own. Make your own world. If you fear, make it work for you. Draw and paint your fear and anxiety and stop worrying about big deep things such as to decide on a purpose and way of life, a consistent approach to even some impossible end or even an unimagined end.
You are not responsible for the world. You're only responsible for your work, so just do it.
Just stop thinking, worrying, looking over your shoulder, wondering, doubting, fearing, hurting, hoping for some easy way out, struggling, grasping, confusing, itching, scratching, mumbling, bumbling, grumbling, humbling, stumbling, numbling, rambling, gambling, tumbling, scumbling, scrambling, hitching, hatching, bitching, moaning, groaning, honing, boning, horse shitting, hair splitting, nit picking, piss tricking, nose sticking, ass gouging, eyeball poling, finger pointing, alleyway sneaking, long waiting, small stepping, evil eyeing, back scratching, searching, perching, besmirching, grinding, grinding, grinding away at yourself. Stop it and just do
'.
think

 

pensar

worry

 

preocuparse 

look over your shoulder

 mirar por encima del hombro

wonder 

preguntarse

doubt 

dudar 

fear 

temer 

hurt 

herir

hope for some easy way out

  esperar una salida fácil 

struggle 

tener dificultades

grasp 

agarrar

confuse 

confundir, deconcertar

itch 

picar

scratch  

rascarse

mumble 

murmurar 

bumble 

balbucear 

grumble  

refunfuñar 

humble 

humillar

stumble 

tropezarse

ramble 

deambular

gamble 

apostar

tumble 

caerse

scumble 

velar

scramble 

revolver (de ahí '

scrambled eggs

'=huevos revueltos)

hatch 

incubar

bitch 

putear
moan quejarse 

groan 

gemir (en el sentido de quejarse, 

complain, moan

)

hone 

afilar

bone 

deshuesar
nit-picking quisquilloso

nose sticking

 hurgarse la nariz

finger pointing

  señalar con el dedo

small stepping

 dar pasitos pequeños

back scratching

 rascarse la espalda

search 

buscar

perch 

posarse

besmirch 

marchar

grind away at sth

  trabajar duro en algo
…y recordad   'ALWAYS BE THE HARDEST WORKER IN THE ROOM!'?